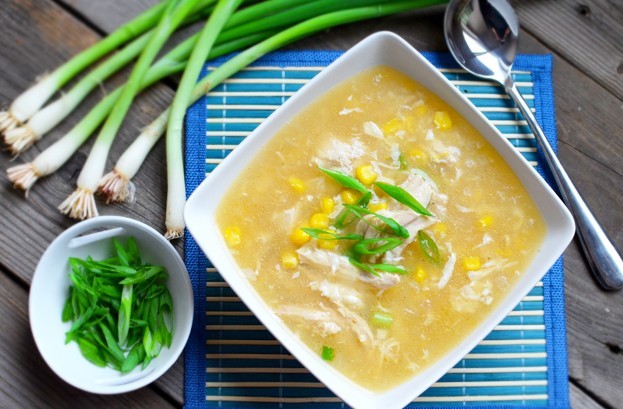 Chicken & Sweetcorn Soup
I have always loved this comforting soup from the Chinese take-away and decided to try it out so I started attempting it over Christmas just gone. It is so easy and delicious I made made it about three times in three weeks. Why not try it yourself, I guarantee you will be hooked.
Ingredients
2 cooked chicken breasts diced

some finely chopped spring onions

3 drops of sesame oil

500ml chicken stock small can sweetcorn

half tsp freshly grated ginger

half tsp freshly grated garlic

1 egg beaten

2 tbsp cornflour mixed with some water

salt and pepper to taste
Instructions
Bring the chicken stock to the boil in a saucepan and add the grated garlic and ginger and sweetcorn. Simmer gently for 5 mins.

Add in the diced chicken breast then the cornflour mix and allow to cook through stirring all the time.
Once it has thickened add in the egg and stir with a chopstick. This gives the soup the authentic ribbons of egg.
Finally add in the spring onions, sesame oil and season to taste.
Enjoy.