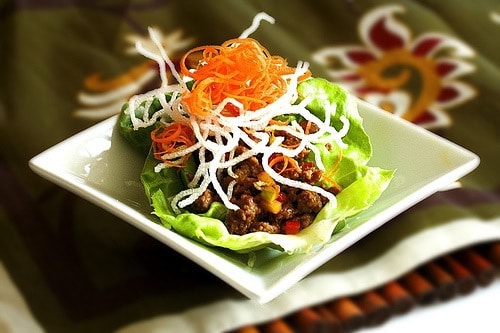 Asian Lettuce Wraps
Asian lettuce wraps are delicious and quick and easy to make. Lettuce wraps are also a fun dish to eat, either as an appetiser or main course. Serve the filling on a platter with whole lettuce leaves on the side, and let your friends and family wrap their own. They'll love the combination of crisp, cold lettuce with the warm, flavourful filling. This easy lettuce wrap recipes makes a low-calorie, low-fat treat that's also very nutritious. Lettuce wraps make a great party food too!

I have made it with both turkey mince and pork mince and both are delicious but the pork just has that extra flavour!

You can make a vegetarian version – just substitute crumbed tofu, more vegetables or even plain rice instead of the meat.The mung bean noodles look clear and transparent when dried and puff up in just a few seconds time when fried. They are different to rice noodles but these can be used too.
Traditionally, the recipe includes canned water chestnuts. Instead, I've used crisp diced green apples – which is much tastier!!
Ingredients
To fry the mung bean or rice noodles, heat a wok or small saucepan (something not too wide at its base. the smaller the base width, the less oil you will need to use) with about 2 inches of cooking oil. While oil is heating to 375F, use your hands to separate the strands of the noodles into small clumps. When oil hot, fry one batch at a time. It should only take 10 seconds to fry. Remove, drain on paper towels.
Combine the sauce ingredients in a small bowl.
To make the filling, heat wok on high heat with cooking oil. When oil is hot, add scallions, ginger and garlic and fry a few seconds until fragrant. Add turkey/chicken/pork mince and fry until almost cooked through. Add the vegetables  and cook 1 minute. Add sauce ingredients. Let simmer for 1 minute to thicken slightly.
Add the apples. Toss to coat. Immediately remove from heat. You don't want to "cook" the apples – keep them nice and crunchy. Serve with lettuce cups, carrot shavings and fried noodles.
Instructions
SAUCE:
1-1/2 tablespoons hoisin sauce
1 teaspoon soy sauce
1/2 teaspoon sesame oil
1 teaspoon rice wine vinegar
freshly ground black pepper
1 teaspoon Sriracha hot sauce
FILLING:
1 teaspoon finely minced garlic
1/2 teaspoon grated fresh ginger
2 scallions, finely chopped
450g turkey/chicken/pork mince
2 cups mixed vegetables (fresh or frozen – pea/carrots, finely diced bell peppers, etc.)
1/2 green apple, peeled and finely diced
TO WRAP & TOPPINGS:
1 head little gem lettuce, leaves washed and separated OR Iceberg lettuce leaves
1 skeins, mung bean noodles OR rice noodles
2 medium carrots, (use a vegetable peeler to peel cut carrot into paper thin strips.  Use a knife to further cut into super thin strands. Or, use the handy kitchen gadget that peels veg into julienne strips)